How to Change JPG to PDF
Use JPG To PDF Converter Mac and Windows versions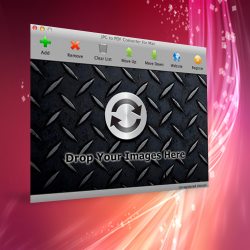 When launched, PDF files garnered praises from the professional group of people who had to deal with the fragile formatting of the editable documents regularly — named as Portable documents these files showcased their abilities to be viewed and printed without showing tiny bits of changes. Furthermore, the password protection can also be enabled for restricted sharing and printing of the PDF documents. Restricted access makes the PDF files an ideal candidate for storing large quantities of relevant data. Can I Save My JPG Images in a PDF File?

If you mean to save your JPG images in a PDF file by first making a Microsoft Word file of inserted images and converting them into a PDF file, then its quite time-consuming. However, you can also do this task by using a third-party PDF converter. These converters make a snap book of your selected images, and your JPG images act as a page of the PDF file. The prime benefit of making a PDF of the JPG image files is that the Mac users can limit the exposure of their JPG data. Furthermore, the PDF document of images can be downsized as well for less storage space.


JPG To PDF Converter for Mac and Windows
Click here to download Mac version

Click here to download Windows version

Your search for finding a reasonable tool for PDF to Image converter ends here. JPG to PDF Converter for Mac is one of the most reasonable converters that is packed with the latest technology and uncomplicated user interface. People with lots of data in the form of images can tell how comforting is it to see all of your stuff in organized files. JPG to PDF Converter for Mac has these exceptional features.

1. Speedy Conversion

No one wants to waste time with a sluggish converter that would take hours to complete a PDF file, or it would fail to finish the conversion after a long wait. JPG to PDF Converter for Mac is a super-fast tool that is built on the latest codecs for quick binding of images into a PDF file. Mac users can upload thousands of JPG Image file for instant conversion.

2. Compatible with Most Image Formats

JPGs are the commercial type of images that are economical for the storage space. However, you cannot request to get JPG images only in your lifetime. Other useful image formats such as TIFF, GIF, BMP, PNG can also be combined in a PDF document. Remember that you cannot use the multi-page such as TIFF(multi-page) for PDF conversion.

3. Comfortable User Interface

MS-DOS didn't survive in the market due to its hard to learn user interface. That's the trend of consumer behavior that they would not accept complicated technology. With the constant development of technology, users know that they can get the best services and tools for them. JPG to PDF Converter for Mac has a crystal clear interface that leaves no confusion and questions for the users.

4. Secure Download

Use the JPG to PDF Converter for Mac for the security of your data. You cannot expect the privacy and security of your image files by a sub-standard tool. Mac users download this PDF converter from the official homepage of JPG to PDF Converter. While downloading the installation, you would not be asked to compromise on your security by downloading other utilities.

5. Legal Documentation

JPG to PDF Converter is a perfect partner for keeping the unaltered record of legal documents. Click the pics of your legal documents and make their day-wise or month-wise files. These PDF files could be used for documentation and evidence purposes.